8 December 2011
Andre Geim receives Niels Bohr Institute Medal of Honour
Professor and Nobel laureate Andre Geim has been awarded the Niels Bohr Institute Medal of Honour. Andre Geim is receiving the Medal of Honour in recognition of his outstanding contributions to the development of physics, especially the results he contributed to while he was a research assistant at the Niels Bohr Institute.
The Niels Bohr Institute Medal of Honour was established in 2010 on the occasion of Niels Bohr's 125th birthday. The medal is awarded annually to an especially outstanding international researcher working in the spirit of Niels Bohr: International cooperation and knowledge exchange.
"With his discovery of graphene form of carbon, Andre Geim has placed himself at the heart of the development of new materials and the understanding of their physical properties. This in a field that has already been studied in great detail through the decades", says professor John Renner Hansen, head of the Niels Bohr Institute.
Andre Geim, now a professor at Manchester University in England, worked as a researcher at the Niels Bohr Institute. It was in the early 90s. He is from the former Soviet Union and when it disintegrated he wanted to see the world. The young physicist went to Denmark and turned up at the Niels Bohr Institute, where he knocked on the door and presented his ideas and a research question was quickly created for the young Russian physicist, who at that time was already very innovative.
Per Hedegård, professor at the Niels Bohr Institute explains, that Andre Geim had many fresh new ideas and he made a small experiment. Carbon often form bonds in three-dimensional lattices, but Andre Geim drew a pencil line on a thick piece of paper, placed a piece of tape over it and when he pulled off the tape he got a thin layer of carbon, just a single atom thick. It was a two-dimensional carbon lattice and it has been shown to have amazing properties. 
The non-traditional ways of doing things is typical of Andre Geim, explains Per Hedegård. Andre Geim believes that it is a good idea to change research areas every once and a while, because then you are looking at it with completely fresh and naïve eyes - you do not know what not to ask about and it is precisely the new, naïve eyes that can lead to entirely new discoveries.
Research is serious, but playing with the possibilities are his trademark and this, being able to look at things in new and different ways, is also what leads to new and groundbreaking research.
These groundbreaking ideas and the further research led to him receiving, along with his colleague Konstantin Novoselov, the Nobel Prize in Physics last year for "groundbreaking experiments with the two-dimensional material graphene".
Graphene is a form of carbon. Normally carbon atoms bond into three-dimensional. But graphene is a thin sheet of carbon, which is only one atom thick. It is a unique material that is almost transparent and yet is extremely strong and conducts an electric current as well as copper.
The presentation of the Medal of Honour took place in the historic Auditorium A at the Niels Bohr Institute.
Watch: Andre Geim lecture
Large images of the medal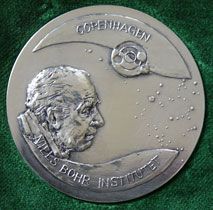 Large images of the medal front.

Large image af the medal back.
The Niels Bohr Institute Medal of Honour was established in 2010 to mark the 125th anniversary of Niels Bohr's birth. The Medal of Honour is awarded annually to a particularly outstanding researcher working in the spirit of Niels Bohr: international collaboration and the exchange of knowledge. 
 
More about the medal >>