20 July 2012
The final years
Returned to Denmark after World War II Niels Bohr went about restoring his institute. The war had put a bit f a damper on the international visits and the Danish state was also short on money.
Nevertheless, Niels Bohr succeeded in undertaking a major expansion of the institute and its resources. The Institute for Theoretical Physics was once again a place where researchers from the around the world could meet and discuss freely.
Niels Bohr, along with a number of colleagues, established the research facility Risø in 1955. It was an experimental facility with a modern accelerator that would be used to research the peaceful use of nuclear energy.
Niels Bohr was also a driving force behind the creation of the European Centre for Nuclear Research, CERN, in Geneva. For 5 years he organized and hosted CERN's theoretical department at the institute, until it was transferred to Geneva in 1957.
Niels Bohr's discoveries revolutionized science and he is often regarded as one of the twentieth century's greatest physicists. But he did not stop there. He fought unceasingly to lead the world on a course that he believed would bring peace and new prosperity for all.
Niels Bohr died on 18 November 1962 at an age of 77. He is buried Assistens Cemetery in Copenhagen.
Recognition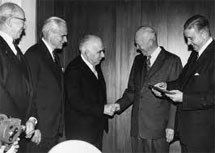 Niels Bohr was an honorary doctorate of 30 faculties and an honorary member of 24 academies and other scientific societies. In addition to the Nobel Prize, he received a number of awards and medals, including the Atoms for Peace Award in 1957. Han was decorated with many domestic and foreign orders, including the Order of the Elephant in 1947. 
Golden Wedding

Niels and Margrethe Bohr celebrated their golden wedding anniversary – 50 years of marriage – in 1962.
A child at heart

Niels Bohr's sons gave him many grandchildren, who greatly appreciated. Many photographs show him playing with them. Here he is playing with his grandson Christian at the family's summer house in Tisvilde.