Defense of Doctoral Dissertation
The optical response of matter is commonly understood within classical electrodynamics seeded by the discovery 200 years ago by Ørsted. With the opportunities offered by advanced nanotechnology and novel spectroscopies, tiny metallic nanostructures now call for attention to also quantum effects.
This thesis offers a mesoscopic electrodynamic framework for the exploration of interplays of nanoscale morphology with the quantum and nonlocal response of metals.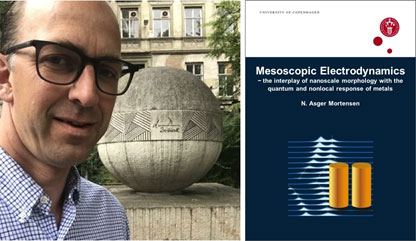 N. Asger Mortensen, Professor & VILLUM Investigator, Center for Nano Optics & Danish Institute for Advanced Study, University of Southern Denmark.
Time and place: Thursday, 11 March 2021 at 13:00 via https://ucph-ku.zoom.us/j/64815091588
Location will be announced later, if physical presence gets possible.
Chairperson: Professor Jan W. Thomsen
Official opponents: Professor Luis Martín-Moreno, University of Zaragoza, Spain, Professor George W. Hansen, University of Wisconsin-Milwaukee, USA.
Opponents ex auditorie must contact the chairperson of the defense Jan W. Thomsen, email: head_of_institute@nbi.ku.dk
For a copy of the Assessment Committee's report and co-author statements please contact the Faculty Secretariat on e-mail: sci-fi@science.ku.dk
Copy of the dissertation can be downloaded here: http://dx.doi.org/10.13140/RG.2.2.26987.05928/1
Please note that the entire defense will be recorded.