2 July 2019
Kell Mortensen receives the 2019 Walter Hälg prize
Prize:
Kell Mortensen, Professor in X-Ray and Neutron Science at the Niels Bohr Institute, University of Copenhagen, receives the 2019 Walter Hälg prize. The European Neutron Scattering Association (ENSA) awards the Walter Hälg Prize biannually to a European scientist for outstanding, coherent work in neutron scattering with long-term impact on scientific and/or technical neutron scattering applications, a definition reflecting the professional achievements of the person who wins the Prize. Walter Hälg, the pioneer of reactor technology and neutron scattering in Switzerland, started to sponsor the prestigious Walter Hälg Prize of the ENSA in 1999. Kell Mortensen is the first Danish researcher to be awarded the prize.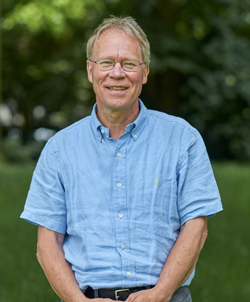 "Steady she goes" – is key to success in science
Kell Mortensens career in neutron science started at Risø National Laboratory, Denmark, where he constructed and was responsible for the small-angle neutron scattering facility at the DR3 reactor from the middle of the 1980s until the reactor was closed in 2000. A substantial number of visitors at Risø have benefitted from Kell's approach to being an instrument scientist. The combination of his pleasant, calm and steady manner and his sharp scientific mind meant that he was actively involved in almost all the scientific projects that outside users brought to the Risø SANS facility. He deserves a large part of the honor for the fact that the Risø SANS was scientifically extremely productive both in projects driven by the users and projects driven by Kell himself. 

A remarkable scientific achievement
Kell Mortensens scientific production spans an extremely wide area of subjects, but a few highlights include work on solution properties of amphiphilic polymers which now have numerous applications as nonionic surface-active agents in industrial applications, cosmetics, pharmaceuticals, drug delivery and bioprocessing. He has contributed to an enormous amount of work on polymers and block copolymer melts, and particularly the structural response to flow and mechanical processing as is highly relevant in industrial applications. Finally, Kell Mortensen was one of the first to recognize the impact of neutron scattering for the study of structures in superconductors which has resulted in several very highly cited papers that still have impact today.
 
From board meetings to teaching and training
Kell has represented the Danish neutron community internationally at a chair of DANSKK (Danish Neutron Scattering Association) for more than two decades and correspondingly being the Danish ENSA delegate for almost the same amount of time. Also, as a co-founder of ESS-Scandinavia (European Spallation Source) and chairman of the ESS-Scandinavia Science Committee he has been deeply involved in the long, hard struggle to ensure the building of the European Spallation Source. Another aspect of Kells career and legacy, which is often overlooked, relates to teaching and training of young scientists. It is safe to say that a very large portion of the Danish neutron community have been in contact with Kell at some point in their career. Finally, it is encouraging that he maintains a high scientific production and is now active in new fields such as synthetic biology, food science and biopolymers. 
Topics
Contact
Kell Mortensen, Professor
X-ray and Neutron Science
Email: kell@nbi.ku.dk
Telephone: +45 35 32 04 64
Mobile: +45 21 51 69 79