14 March 2019
Irene Tamborra, associate professor at the Niels Bohr Institute, receives scientific prize
Award:
Irene Tamborra, associate professor at the Niels Bohr Institute, University of Copenhagen, receives the 2019 MERAC Prize from the European Astronomical Society for the Best Early Career Researcher. She is awarded the prize or her pioneering contribution to understanding the role of an elementary particle, the neutrino, in astronomy and astrophysics. Neutrinos are elementary particles that pass almost undisturbed through interstellar space and are copiously produced in astrophysical sources. Thus they potentially carry vital information about the often very violent astrophysical events, such as neutron star mergers, supernovae etc., that emit them. Their nickname, the "ghostly messenger particles" bears testimony to the promise they hold for new knowledge on our universe.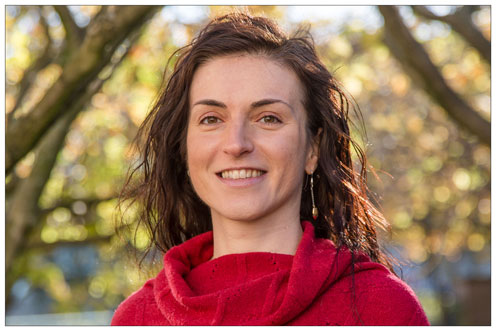 In 2016, Irene joined the Niels Bohr Institute in Copenhagen as Knud Højgaard Assistant Professor and won a Villum Young Investigator Grant. In 2017, Irene was promoted Associate Professor and awarded a career-development grant from the University of Copenhagen. More recently, she received a competitive Sapere Aude grant from the Danish Council for Independent Research and a Distinguished Associate Professor Fellowship from the Carlsberg Foundation. She is also Mercator Fellow for the Collaborative Research Centre 1258 at the Max Planck Institutes for Physics and Astrophysics in Germany.
A large part of Irene Tamborra's work has been centered on the role of the neutrinos in extreme astrophysical sources. Among many examples, she discovered the LESA instability, the first hydrodynamical instability occurring in core-collapse supernovae completely driven by neutrinos. The neutron star that is born at the center of a collapsing massive star radiates a very large number of neutrinos. By working with sophisticated 3D simulations, Irene found that this neutrino emission can develop a hemispheric (dipolar) asymmetry, contrarily to our expectations. LESA can have important consequences for the formation of chemical elements in stellar explosions, and the detection of neutrinos from a future supernova in our galaxy. Moreover, Irene Tamborra has proposed innovative ideas concerning the exploration of astrophysical transients by using neutrinos as probes, and has demonstrated a highly original research approach connecting the theoretical modelling of the microphysics of astrophysical transients to observations. This led to unravel fundamental properties of neutrinos in dense matter, to unveil the impact of neutrinos on the production of the heavy elements and the dynamics of transient astrophysical sources. The promising approach of using the neutrino, the "ghostly messenger particle" as probe of the inner workings of extreme astrophysical sources is the latest addition to a long list of scientific endeavours.
Link to the European Astronomical Society press release: https://eas.unige.ch/merac_prizes.jsp
Topics