27 September 2019
Mathias Luidor Heltberg from the Niels Bohr Institute, receives one of three Ph.D awards
Prize:
The PhD prizes for 2019 have been awarded to three remarkable young researchers, each of whom has engaged in outstanding doctoral work here at the faculty. They have conducted projects that, among other things, have resulted in an impressive number of scientific articles and high praise from the assessment committee. Mathias Luidor Heltberg, Niels Bohr Institute earns the 2019 PhD Award for his doctoral dissertation, 'Complex Dynamics in Cell Signalling', and his exceptional research in dynamic systems and how they effect a wide range of biological systems. The two other beneficiaries are Anne Schou Reinholdt, Department of Chemistry and Werner Krannich, Department of Mathematics.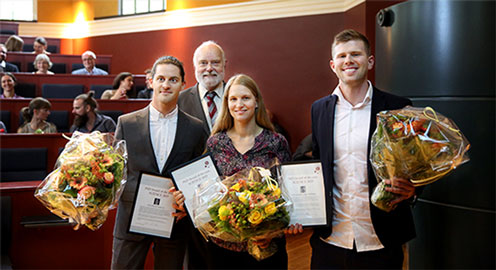 A delighted and proud beneficiary – who focuses on the collaboration in the group
Mathias underlines the importance of support to the interdisciplinary mindset he has experienced in his research group. "I'm happy and proud, of course – and a little surprised as well, actually, because we're really talking about top research here. So it means a little more than I expected it would, really. In my field, we think of ourselves as physicists, but we are working in cross section between applied mathematics, applied physics and biology. The prize means a heavy pad on the back to the interdisciplinary thinking and mindset and in particular my research group, where exceptional tutoring, openness, debate and assistance has been part of my daily life from the onset. There are no hierarchies among people, and I have felt like an equal, even as a student, and that really gives you a desire to make that extra effort. I believe everyone in my group find a lot of different scientific problems super interesting, the math and the physics in it, and that often leads to digging into a variety of subjects, even though our tools may come from the same toolbox. We are always trying to explore new territories. I feel lucky and honored and hope the prize can help attract attention to our research", says Mathias.
The Ph.D students are a vital part of the scientific environment at the institute
Approximately 280 new doctoral trajectories launch at SCIENCE every year, and researcher training is a strategic focal area for the faculty. Roughly 1100 PhD students are enrolled on an ongoing basis, representing a total annual investment of a half-billion Danish kroner. PhD's play a central role in our departments, where they contribute to the development, revamping and maintaining of the faculty's robust and innovative research environments. Sixty percent of the faculty's doctoral student body is made up of international students, which contributes to the building of international networks and collaborative ventures, both during and beyond the completion of PhD programmes.
Topics