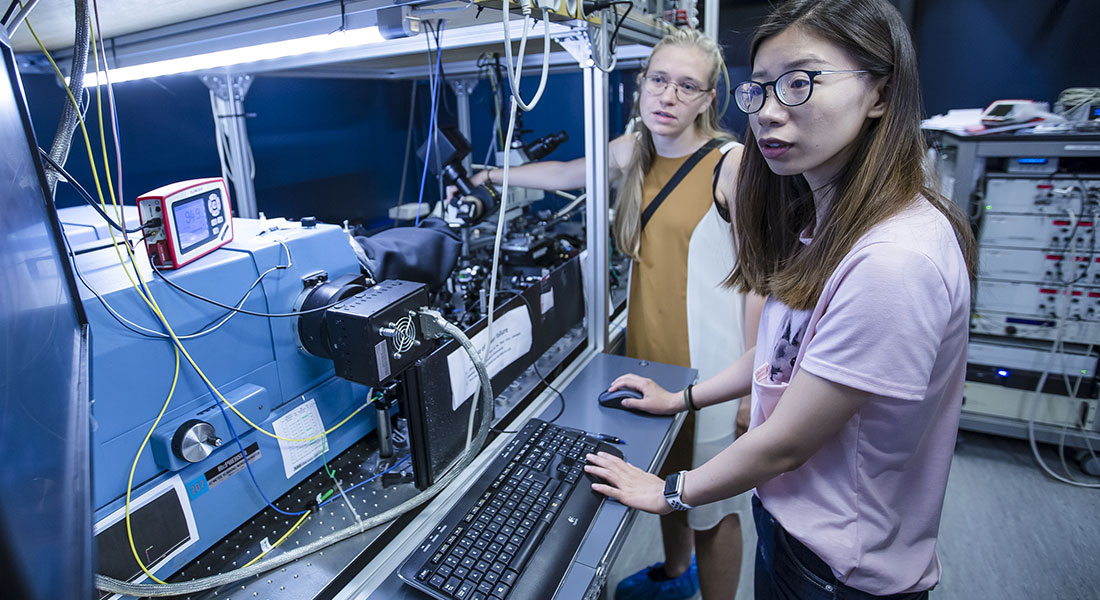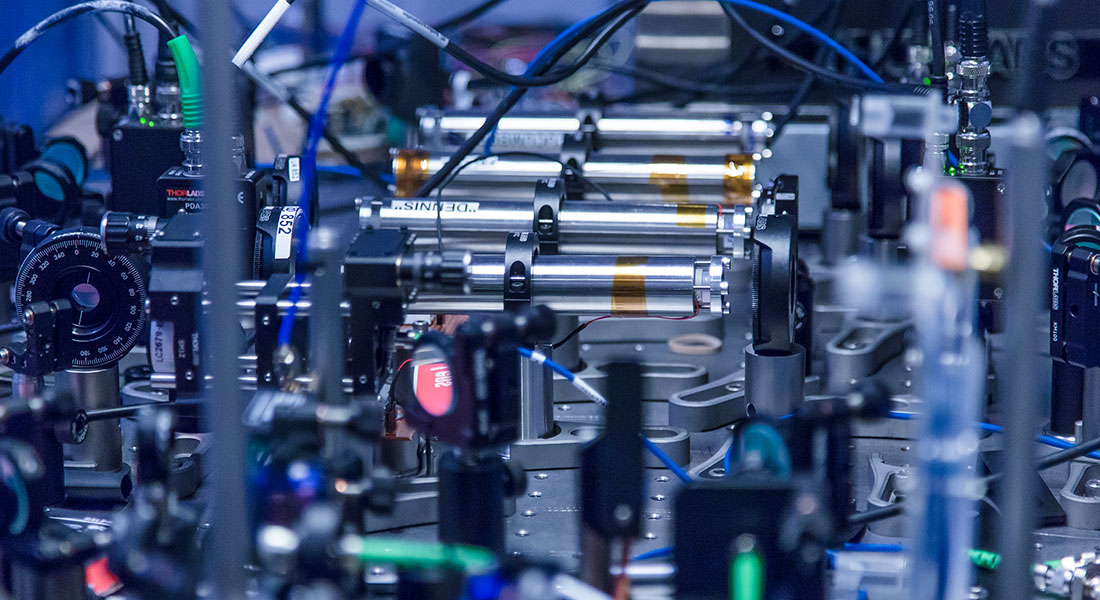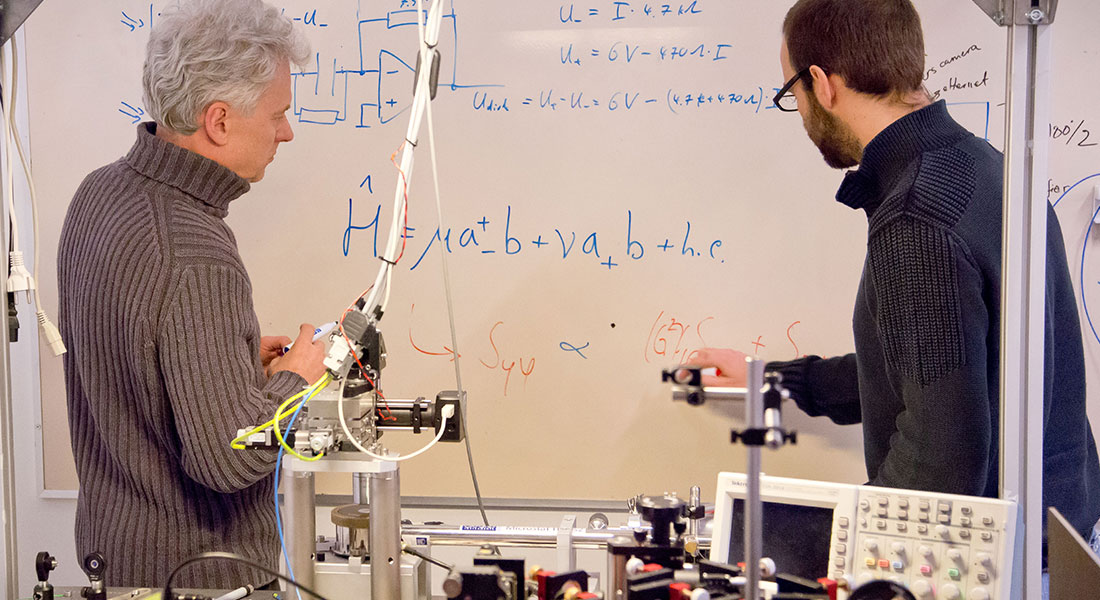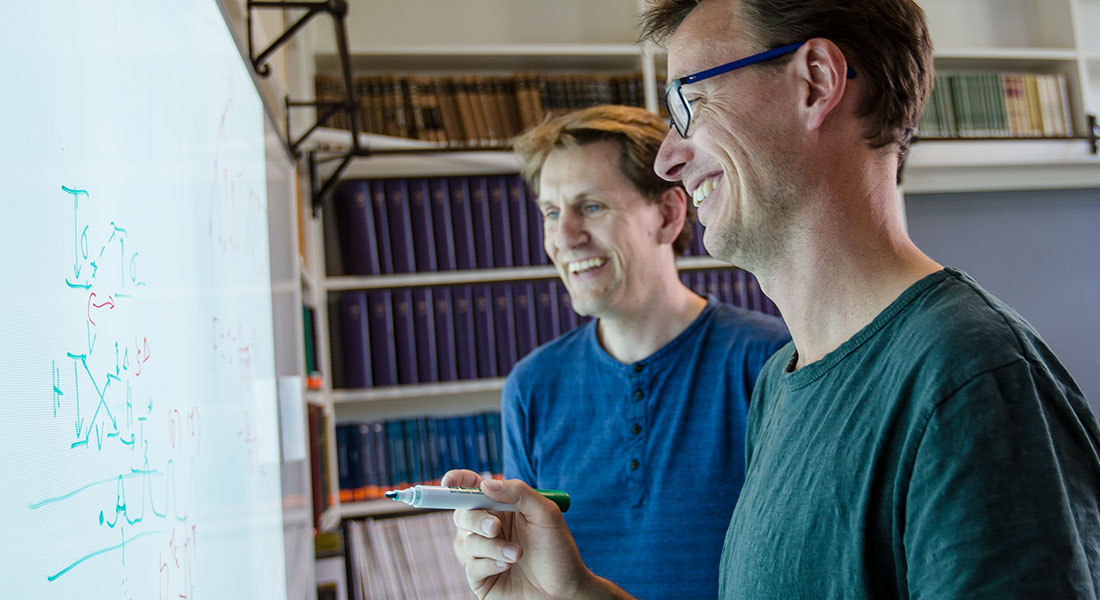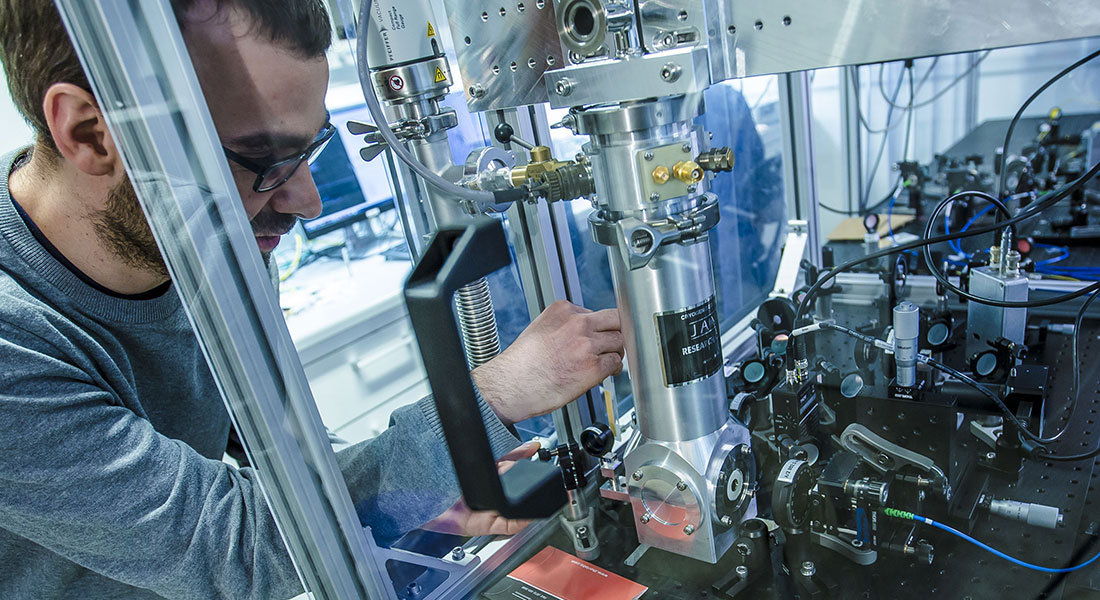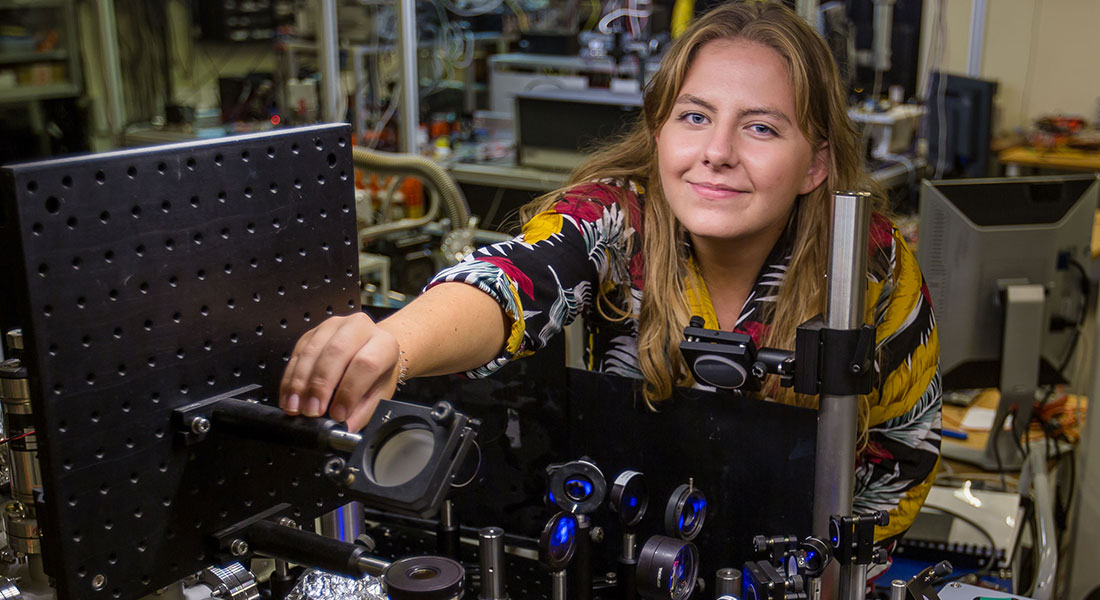 Quantum Optics and Photonics
The Quantum Optics section conducts experimental and theoretical research in Quantum Optics, in particular, in Quantum Information Processing, Quantum Sensors , and Quantum Technologies. 
We use photons, from optics to microwaves interacting with a wide variety of quantum matter, such as quantum dots, single atoms, atomic ensembles and mechanical oscillators.
The overarching theme is generation and manipulation of non-classical entangled states for quantum simulation, sensing and communication. The research directions span from fundamental research to device engineering.
The section consists of four experimental groups and a theory group.
Staff
| Name | Title | Job responsibilities | Image |
| --- | --- | --- | --- |
| Search in Name | Search in Title | Search in Job responsibilities | |
| Albrechtsen, Marcus | Postdoc | | |
| Anand, Pratyush | Research Assistant | | |
| Andersen, Nils Overgaard | Emeritus | | |
| Andrianopoulos, Nikolaos | Guest Researcher | | |
| Angelopoulou, Vasiliki | PhD Fellow | | |
| Appel, Martin Hayhurst | Enrolled PhD Student | | |
| Aspropotamiti, Evangelia | PhD Fellow | | |
| Bakkensen, Bastian | PhD Fellow | | |
| Bergamin, Maxime | External | | |
| Bocoum, Maimouna Amandine | Postdoc | | |
| Bohr, Eliot | PhD Student | | |
| Boye, Anna Ingmer | Student | | |
| Brito Brasil, Tulio | Postdoc | | |
| Bærentsen, Christian Folkersen | Postdoc | | |
| Béguin, Jean-Baptiste Sylvain | Assistant Professor | | |
| Cambier, Valentin Pierre | External | | |
| Capelle, Thibault Adrien | Postdoc | | |
| Chan, Ming Lai | Postdoc | | |
| Chernobrovkin, Ilia | PhD Fellow | | |
| Faurby, Carlos Fernando Duarte | PhD Fellow | | |
| Fedorov, Sergey | Postdoc | | |
| Galinskiy, Ivan | Postdoc | | |
| Gonzalez Ruiz, Eva Maria | Postdoc | | |
| Goorney, Simon Richard | PhD Student | | |
| Grimaldi, Andrea | Postdoc | | |
| Hahne, Felix Caspar | PhD Fellow | | |
| Hansen, Benjamin Anton Krogh | Guest Researcher | | |
| Hansen, Jacob Thornfeldt | PhD Fellow | | |
| Hauff, Nils Valentin | Enrolled PhD Student | | |
| Hellebek, Emil Rye | PhD Fellow | | |
| Hersoug, Niels-Kristian | External | | |
| Hviid, Charlotte | Coordinator | | |
| Jia, Jun | PhD Student | | |
| Jørgensen, Asbjørn Arvad | Guest Researcher | | |
| Kocik, Robin Rayane | Laboratory Assistant | | |
| Kollath-Bönig, Johann Sebastian | Enrolled PhD Student | | |
| Kralj, Nenad | External | | |
| Kristensen, Mads Bjerregaard | PhD Student | | |
| Kristensen, Sofus Laguna | PhD Student | | |
| Langman, Eric Christopher | Assistant Professor | | |
| Larsen, Charlotte Melgaard | External | | |
| Lassen, Petra | Administrative Officer | | |
| Lavignac, Marion Julia | Laboratory Assistant | | |
| Liu, Shikai | Postdoc | | |
| Liu, Yimou | Visitor | | |
| Lodahl, Peter | Professor | | |
| Löbl, Matthias Christian | Postdoc | | |
| Malek Zadeh, Peyman | PhD Fellow | | |
| Mashaal, Aida | PhD Fellow | | |
| Mathiassen, Jonas Bundgaard | PhD Fellow | | |
| Meng, Chao | Postdoc | | |
| Meng, Yijian | Postdoc | | |
| Meng, Yu | Postdoc | | |
| Midolo, Leonardo | Associate Professor | | |
| Mikkelsen, Mikkel Thorbjørn | PhD Fellow | | |
| Mølmer, Klaus | Professor | | |
| Müller, Jörg Helge | Associate Professor | | |
| Nielsen, Dorte Christiane Garde | Research Secretary | | |
| Nielsen, Kasper Hede | PhD Fellow | | |
| Novikov, Valerii | Research Assistant | | |
| Paesani, Stefano | Postdoc | | |
| Papon, Camille | External | | |
| Parniak, Michal | Postdoc | | |
| Pedersen, Claus Flemming Friis | External | | |
| Pedersen, Freja Thilde | Postdoc | | |
| Pertoldi, Andrea | No job title VIP | | |
| Pettersson, Love Alexander Mandla | PhD Fellow | | |
| Pfau, Teresa Klara | PhD Fellow | | |
| Planz, Eric | PhD Fellow | | |
| Polzik, Eugene Simon | Professor | | |
| Qvotrup, Clara Celeste | PhD Fellow | | |
| Robinson-Tait, Julian Curry | PhD Fellow | | |
| Roig I Server, Mercè | PhD Fellow | | |
| Roulund, Jeppe Mikkelsen | External | | |
| Salamon, Hanna Krystyna | Research Assistant | | |
| Sandberg, Oliver August Dall'Alba | PhD Fellow | | |
| Schliesser, Albert | Professor | | |
| Schmieg, Rebecca | Postdoc | | |
| Schäffer, Stefan Alaric | Postdoc | | |
| Sherson, Jacob Friis | Professor | | |
| Simonsen, Anders | Postdoc | | |
| Stefan, Lucio | Postdoc | | |
| Stokbro, Kurt | External | | |
| Stærkind, Hans | PhD Student | | |
| Sund, Patrik Isene | PhD Fellow | | |
| Sørensen, Anders Søndberg | Professor | | |
| Tamaki, Sho | PhD Fellow | | |
| Tang, Mikkel | Postdoc | | |
| Thomas, Rodrigo Adriano | Postdoc | | |
| Thomsen, Jan Westenkær | Head of Department | | |
| Trouyet, Yanis | Laboratory Assistant | | |
| Uldall, Frederik | Special Consultant | | |
| Van Diepen, Cornelis Jacobus | Postdoc | | |
| Vartehparvar, Omid | Guest Researcher | | |
| Vertchenko, Larissa | External | | |
| Viereck, Peter Johansen | External Consultant | | |
| Wang, Ying | Postdoc | | |
| Xi, Xiang | Postdoc | | |
| Xu, Peng | Guest Researcher | | |
| Yang, Fan | Postdoc | | |
| Zeuthen, Emil | Associate Professor | | |
| Østfeldt, Christoffer | Postdoc | | |