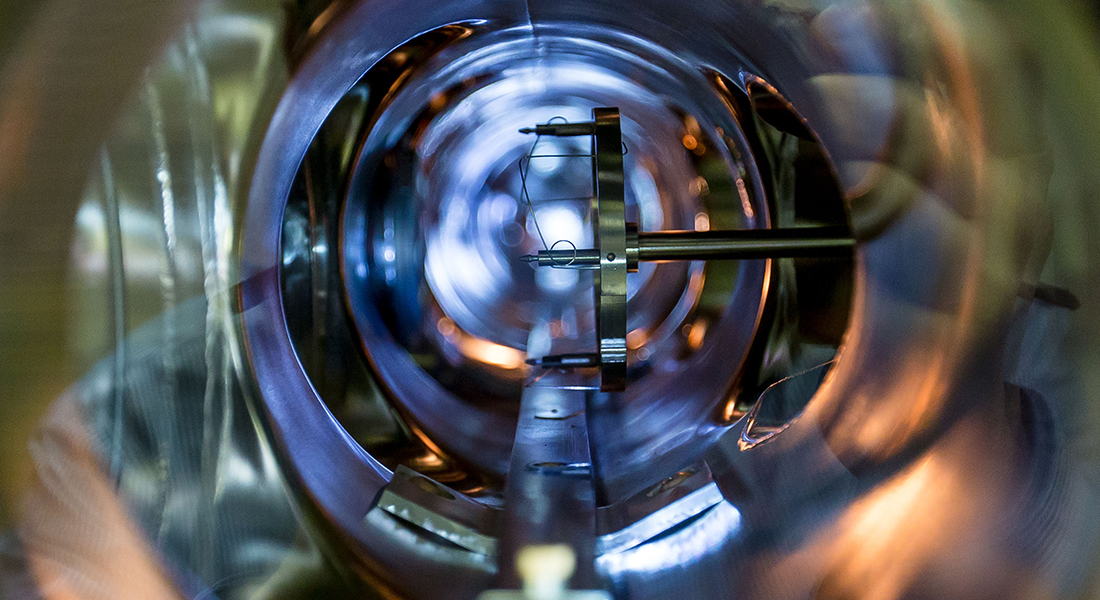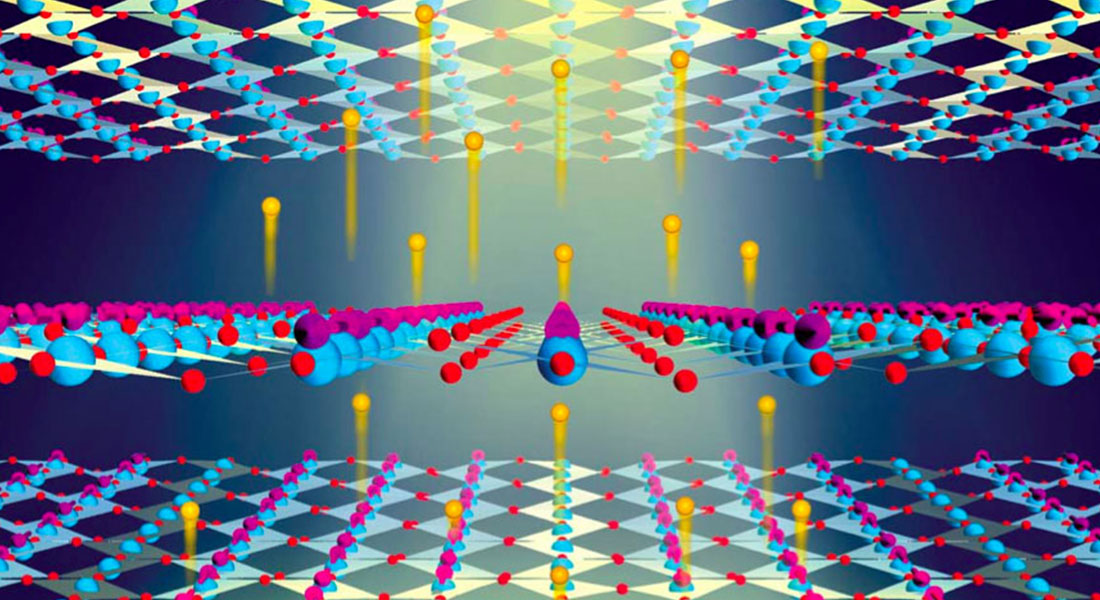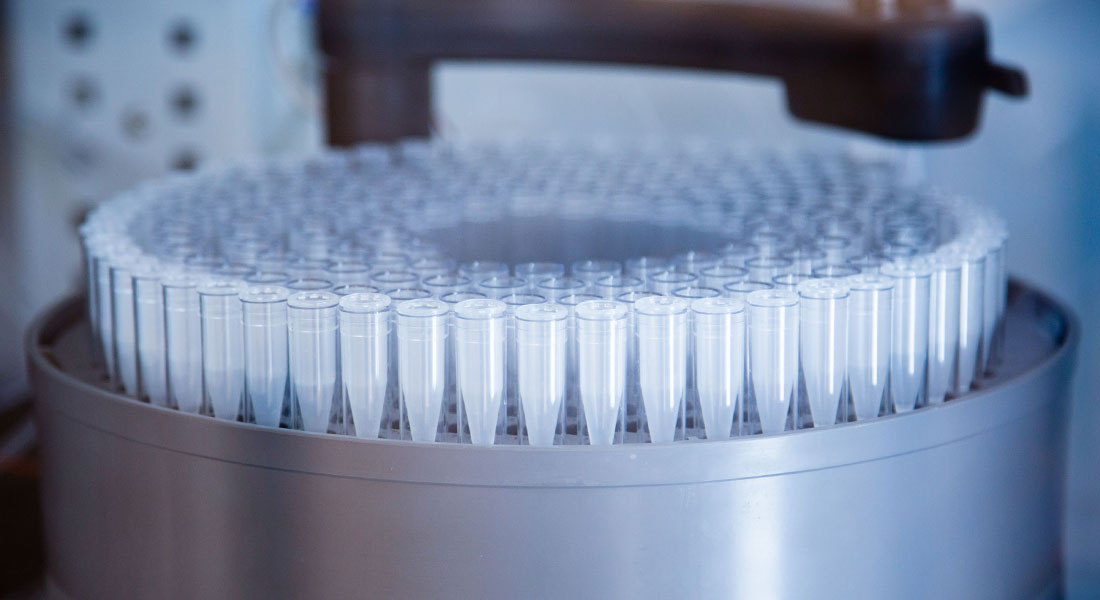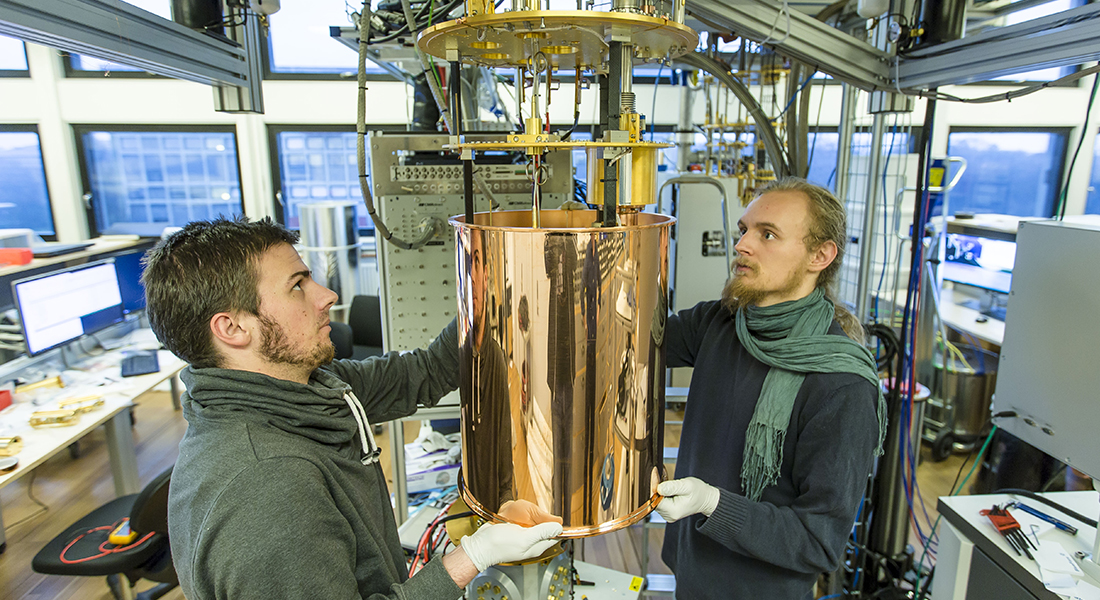 Condensed Matter Physics
Condensed matter physics is concerned with the understanding of the physical properties of solids and liquids, both naturally occurring and artificially produced.
The understanding of the macroscopic properties, for example, magnetism and electrical resistance, is based on a statistical description of an astronomically large number of atoms. Given the periodic table and the well-understood quantum mechanical description of the individual atoms, the number of combinations is infinite, which leaves plenty of room for discovering new fascinating phenomena.
Condensed matter physics is the foundation for many every-day technologies, ranging from hardening of steel to integrated microchips. Modern research in condensed matter physics takes place in both large scale x-ray and neutron scattering facilities, as well as in locally based laboratories, where quantum phenomena are being explored at temperatures near absolute zero. There is a vivid exchange between condensed matter and neighboring research areas, including biophysics, nanoscience, chemistry, optics, and quantum information.
Staff
| Name | Title | Phone | E-mail |
| --- | --- | --- | --- |
| Search in Name | Search in Title | Search in Phone | |
| Als-Nielsen, Jens | Emeritus | +4528750425 | E-mail |
| Andersen, Brian Møller | Associate Professor | +4550468651 | E-mail |
| Andresen, Bjarne | Associate Professor Emeritus | +4535320470 | E-mail |
| Ansaloni, Fabio | External |   | E-mail |
| Asaad, Serwan | Postdoc | +4535322069 | E-mail |
| Awoga, Oladunjoye Aina | External Postdoc |   | E-mail |
| Banszerus, Luca Felix | Postdoc | +4535329446 | E-mail |
| Baran, Virgil | Guest Researcher |   | E-mail |
| Barclay, Abigail | PhD Fellow | +4535332285 | E-mail |
| Benitez Jara, Fernando Gabriel | Visitor |   | E-mail |
| Bentsen, Søren Kristoffer Roed | External |   | E-mail |
| Berritta, Fabrizio | PhD Fellow |   | E-mail |
| Beznasiuk, Daria | External | +4535328264 | |
| Bhaskar, Umesh Kumar | External |   | E-mail |
| Boateng, Benjamin | External | +4535326908 | E-mail |
| Bojcic, Leon | Attendant |   | E-mail |
| Breiø, Clara Neerup | PhD Fellow | +4535328380 | E-mail |
| Brovang, Bertram Seck | PhD Fellow | +4535325584 | E-mail |
| Buca, Berislav | Assistant Professor | +4535329343 | E-mail |
| Burrello, Michele | Associate Professor | +4591643544 | E-mail |
| Carrad, Damon James | External | +4535325374 | E-mail |
| Chai, Minqi | No job title VIP |   | E-mail |
| Chatterjee, Anasua | Assistant Professor | +4535335370 | E-mail |
| Chavez-Garcia, Jose Manuel | Enrolled PhD Student | +4535329231 | E-mail |
| Christensen, Morten Holm | Postdoc | +4535321193 | E-mail |
| Christensen, Rasmus Bjerregaard | Academic Research Staff | +4535334276 | E-mail |
| Chung, Chia-Min | External | +4535325399 | E-mail |
| Chung, Tsung-Lin | PhD Fellow | +4535324785 | E-mail |
| Dahl, Anders Erik Enevold | PhD Fellow | +4535334915 | E-mail |
| Dalal, Kamaldeep | PhD Student | +4535324105 | E-mail |
| Danilenko, Alisa | Postdoc | +4535320872 | E-mail |
| Edmund, Jens Morgenthaler | External |   | E-mail |
| Eichinger, Michaela | Postdoc | +4552824459 | E-mail |
| Erlandsson, Oscar | Postdoc | +4535337995 | E-mail |
| Estrada Saldana, Juan Carlos | External | +4535336046 | E-mail |
| Feidenhans'l, Robert Krarup | Professor | +4528750397 | E-mail |
| Feldstein Bofill, David | PhD Fellow | +4535332382 | E-mail |
| Flensberg, Karsten | Professor | +4535320418 | E-mail |
| Frackowiak, Adrianna Elzbieta | External |   | E-mail |
| Fruh, Arthur André Georges | External |   | E-mail |
| Geier, Max | Postdoc | +4535337349 | E-mail |
| Grove-Rasmussen, Kasper | Academic Research Staff | +4521328615 | E-mail |
| Hajigeorgiou, Emily | Student | +4535333836 | E-mail |
| Hastrup, Jacob | Postdoc | +4535323487 | E-mail |
| Hedegård, Per | Professor | +4528750435 | E-mail |
| Henningsen, Jes | Associate Professor Emeritus | +4529411110 | E-mail |
| Hermansen, Cecilie | PhD Fellow | +4535333485 | E-mail |
| Holgaard, Ulrik Laurens Drejer | Engineer | +4529229694 | E-mail |
| Holm-Dahlin, Sonja | Postdoc | +4528306064 | E-mail |
| Hou, Xiaoyu | No job title VIP |   | E-mail |
| Jabina, Per Allan | Attendant FU | +4593565401 | E-mail |
| Jacobsen, Henrik | Postdoc |   | E-mail |
| Jacobsen, Lena Rørbæk | Special Consultant | +4529176481 | E-mail |
| Jallberg, Johanna Helena | IT Officer | +4535334160 | E-mail |
| Jensen, Jens | Associate Professor Emeritus | +4523984007 | E-mail |
| Jespersen, Thomas Sand | No job title | +4528570164 | E-mail |
| Joecker, Benjamin | Postdoc | +4535327585 | E-mail |
| Johnson, Erik | Associate Professor Emeritus | +4543997218 | E-mail |
| Kamminga, Machteld Elizabeth | External | +4535335060 | E-mail |
| Kang, Jung-hyun (Jordan) | External | +4535325200 | E-mail |
| Kirkensgaard, Jacob Judas Kain | Associate Professor | +4523746863 | E-mail |
| Kjaergaard, Morten | Associate Professor | +4535327019 | E-mail |
| Kloster, Maren Elisabeth | Engineer | +4527292042 | E-mail |
| Konstantinopoulou, Pinelopi Olgana | External |   | E-mail |
| Kreisel, Andreas | Assistant Professor |   | E-mail |
| Krighaar, Kristine Marie Løfgren | PhD Student | +4535323770 | E-mail |
| Kuemmeth, Ferdinand | Professor | +4521162657 | E-mail |
| Lakic, Lazar | PhD Student |   | E-mail |
| Lampadaris, Charalampos | PhD Student | +4535330181 | E-mail |
| Larsen, Robert Garbrecht | External |   | E-mail |
| Lawrie, William Iain Leonard | Postdoc | +4535327547 | E-mail |
| Lefmann, Helene Bülow | Laboratory Assistant |   | E-mail |
| Lefmann, Kim | Professor | +4529250476 | E-mail |
| Leijnse, Martin Christian | External |   | E-mail |
| Lemming, Lars | Research Technician. | +4535336071 | E-mail |
| Lenander, Emma Ynill | PhD Student |   | E-mail |
| Libera, Valeria | Enrolled PhD Student |   | E-mail |
| Lindelof, Poul Erik | Emeritus | +4538283263 | E-mail |
| Lindholm, Maja Krüger | Student |   | E-mail |
| Liu, Yu | Assistant Professor | +4535335502 | E-mail |
| Lykkegaard, Magnus Rønne | PhD Fellow | +4535325583 | E-mail |
| Maffi, Lorenzo | Postdoc | +4535325417 | E-mail |
| Maiani, Andrea | External |   | E-mail |
| Marcus, Charles M. | Professor | +4520341181 | E-mail |
| Mitsutake, Hery | Visitor |   | E-mail |
| Mortensen, Kell | Professor Emeritus | +4535320464 | E-mail |
| Møller, Svend Krøjer | PhD Fellow | +4535320790 | E-mail |
| Nagda, Gunjan Piyush | Postdoc | +4550654047 | E-mail |
| Nathan, Frederik | Postdoc | +4535329458 | E-mail |
| Nielsen, Henri Thyrrestrup | External | +4593563612 | E-mail |
| Nielsen, Ida Egholm | PhD Fellow | +4535326369 | E-mail |
| Nielsen, Malthe Asmus Marciniak | PhD Student |   | E-mail |
| Nitsch, Maximilian | External |   | E-mail |
| Nunes Bordallo, Heloisa | Associate Professor | +4535321215 | E-mail |
| Nygård, Jesper | Professor | +4535332633 | E-mail |
| Olsteins, Dags | External | +4535325223 | E-mail |
| Paaske, Jens | Associate Professor | +4535320395 | E-mail |
| Pedersen, Martin Cramer | External | +4535334852 | E-mail |
| Qazi, Sarfaraz Akhter | No job title VIP | +45+358452599538 | E-mail |
| Rasmussen, Finn Berg | Associate Professor Emeritus |   | E-mail |
| Rasmussen, Torbjørn Raasø | PhD Fellow | +4535323593 | E-mail |
| Ray, Pia Jensen | External |   | E-mail |
| Razmadze, Davydas | External | +4550653037 | E-mail |
| Rudner, Mark Spencer | External |   | E-mail |
| Røhling, Tobias Thornsen | External | +4535323556 | E-mail |
| Røising, Henrik Schou | Postdoc | +4535324121 | E-mail |
| Rømer, Astrid Tranum | External | +4535337621 | E-mail |
| Sasmal, Satyaki | Postdoc | +4535334230 | E-mail |
| Schlosser, Rasmus Dalsgaard | PhD Fellow | +4535325608 | E-mail |
| Schrade, Constantin Richard | Assistant Professor | +4535321461 | E-mail |
| Schwarze, Oliver Holmegaard | External | +4535323751 | |
| Sestoft, Joachim Elbeshausen | Postdoc | +4535326754 | E-mail |
| Smith, Henrik | Emeritus |   | E-mail |
| Stathaki, Chrysoula | Master Student |   | E-mail |
| Sun, Zhenhai | PhD Fellow | +4535322224 | E-mail |
| Svensson, Carl Viktor | External Postdoc |   | E-mail |
| Særkjær, Tobias Skov | PhD Fellow | +4535321049 | E-mail |
| Taherkhani, Masoomeh | Historical Employment | +4540983595 | E-mail |
| Theodor, Keld | Assistant Engineer | +4528750453 | E-mail |
| Thiyagarajah, Naganivetha | Engineer | +4529229829 | E-mail |
| Tripathi, Malvika | External | +4535328253 | E-mail |
| Tsekeridis, Charalampos | PhD Fellow | +4535321127 | E-mail |
| Tsintzis, Athanasios | Visiting Student |   | E-mail |
| Upadhyay, Shivendra | Engineer | +4529229649 | E-mail |
| Vaitiekenas, Saulius | Assistant Professor | +4535320851 | E-mail |
| Vernimmen, Ingrid Germaine Alida | Secretary | +4535331584 | E-mail |
| Wauters, Matteo Michele | Postdoc | +4535325007 | E-mail |
| Wejlemand, Louise Klinge | Administrative Officer | +4535335568 | E-mail |
| Wolff, Frederik Knudsen | Laboratory Assistant | +4535332552 | E-mail |
| Yao, Yuyu | No job title VIP |   | E-mail |
| Zelzer, Steffen | Enrolled PhD Student | +4535331318 | E-mail |
| Zhao, Junting | PhD Fellow | +4535325603 | E-mail |
| Zhao, Xiaojing | External |   | E-mail |
| van Nieuwenburg, Everard Pieter L | Visitor |   | E-mail |
| Øgendal, Lars Holm | Associate Professor Emeritus | +4535337435 | E-mail |